The chemistry of fentanyl
What happens when a former drug dealer replaces your chemistry teacher for a day? Students learn about the lack of quality control for illicit drugs and counterfeit pills.
Watch the video — or check out the Substitute Dealer's lesson plan for more details.
---
Watch the chemistry lesson
---
Meet the Substitute Dealer: Dorian "Didi" Bess, 53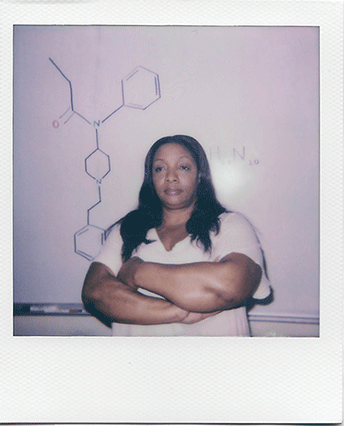 Didi is a Credentialed Alcoholism and Substance Abuse Counselor trainee and social justice advocate with a focus on mentoring persons affected by the criminal justice system and is an advocate for restoration after incarceration, active through her work with and The Social Justice Network. She is also part of Second Chance Studio inaugural group of fellows.
Didi led our Chemistry lesson, where she helped young people learn about the dangers of fentanyl, and how it can be impossible to tell if a substance contains fentanyl just through the five senses alone.
Didi's perspective is based on her own experience that included transporting drugs, which Didi began doing as a way to support herself and her son as a young mother. Didi ultimately was incarcerated for 18 years, and today is an advocate for justice-impacted citizens, and is passionate about helping young people understand the risks and dangers associated with drugs.